Speech Coaching & Consulting
As your personal speech coach, Bill Brown can help you deliver your message with confidence, impact and authority.
Your speech is written. You've even practiced it.
But are you ready?
And will it have the impact that you want?
Certified World Class Speaking Skills Coach Bill Brown is an experienced speaker, radio broadcaster, and voice talent who understands how to communicate through the spoken word—how to use your voice, body language, staging and word selection to effectively communicate your message.
Put his expertise to use before your next big corporate speech.
And if you want some help writing the speech, Bill can help make it stronger, more motivating, and more effective.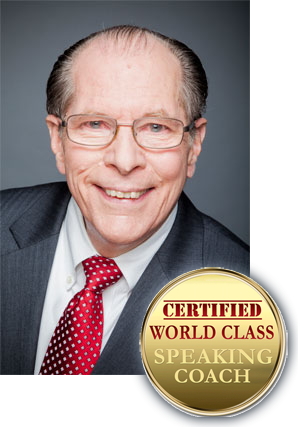 Let's talk about how I can help you improve your speech. Contact me at (949) 939-3477.

Executive Speech Coaching
Speaking skills are very important in business, especially the higher you are in the organization. But time is tight. You need to be the best that you can be, but you can't afford to spend the time a workshop would require. Work with someone who can get you there quickly.
Hiring Bill as a your executive speech coach would, in a concentrated timeframe, help you:
Communicate confidence and strength
Inspire and motivate your team to achieve your vision
Hone your message so that it effectively and succinctly achieves your objective

Speechwriting Services/Speech Collaboration
Need help in crafting a message that motivates, educates, and inspires?
Bill writes in a style that is designed to be spoken.
He knows how to write for impact. He knows how to write for emphasis. He knows how to write so that the speech flows well and the words roll right out of your mouth.
Two qualities that really set Bill apart are his technical background and his ability to clearly and concisely explain complex topics and concepts. He is ideal for training topics where the subject matter is technical or conceptual in nature.
In addition, because of his experience in sales, corporate management, and on the executive board of several associations, he writes with an executive perspective that communicates knowledge, confidence, and strength.
Bill offers both speechwriting services as well as speechwriting collaboration, where he will work step-by-step with you to develop, craft and review your message.
"Bill Brown is an outstanding, experienced speaker who has the unique ability to bring his expertise to others through personal and effective coaching. I am convinced he can help anyone become a better speaker and presenter."
"Bill has the unique ability of not only listening to the words you choose and helping you to choose the best ones for delivering your message, but also to examine in great detail your style of delivery. If you are looking to take your speaking to a higher level and are really serious about becoming a better communicator and public speaker, contact Bill Brown."
Speak with confidence and authority. Contact Bill at (307) 622-6259 to discuss the speech coaching program that will best fit your goals.