Speaking & Presentation Skills Training Programs
Persuasive Presentations. Motivated Teams. Executives and Managers Who Sound Like Leaders. Compelling Messages Effectively Presented.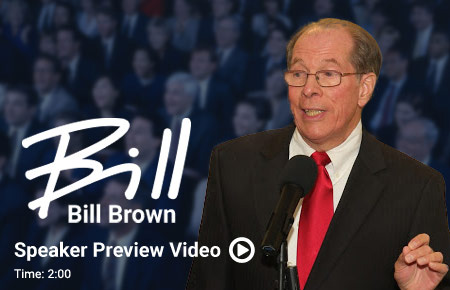 That's what you want, but how do you get there? How do you move from where you are to where you want to be?
Bill Brown has gone through the transformation from a stiff engineer to a dynamic, on-air and on-stage personality. Through his speaking skills programs, he can help you—and your organization—transition, too! His engineering mind has enabled him to examine and understand the process of speech delivery. His communication side enables him to explain it in everyday language.
Bill's Most Requested Programs
Bill's presentation skills training programs are tailored to fit your outcomes, and are available as keynotes, breakout sessions
and workshops. Bill is also happy to provide customized on-site training sessions for your organization!

Sounding Like a Leader
Focus Areas: Speech Delivery, Speaking & Presentation Skills, Professional Growth, Leadership Development
If you work for a company, not only do you want to succeed in your existing job, you want to be considered for that upcoming promotion. You want management to say, "this is a true leader." If you are in sales or are a solopreneur, you want your customers to think, "this person is a leader in their field."
You want to stand out.
Your interface with your management or your customers is most evident when you are making a presentation. That's why your presentation skills are so critical to your success.
All too often, however, we learn our speaking skills from our coworkers. Each company or organization has its own style that everyone copies. And, as a result, everyone sounds alike. This is fine if the standard is strong, but most of the time it is not. And worse yet, you sound like everybody else.
This presentation is designed to help you stand out in a crowd—whether that is within your company or among your competitors. It is perfect for association chapter meetings.
Core Content Includes:
How do you assess you own speaking style?
Does it sound like that of a leader?
What does a leader sound like?
Basic principles of Speech Delivery that can move you to the next level—in your speaking ability, in your job performance, and in the corporate organization chart